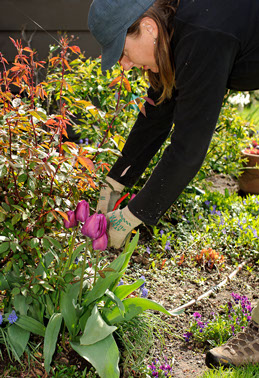 Based in beautiful Portland, Oregon, the gardeners of Green Artisans aspire to create and maintain vibrant gardens alive with health and beauty for the people who live in them.
We know that every garden is as unique as you are, so we use our 20+ years of experience to produce a thriving garden that suits your taste, your home's architecture, and the specific and individual traits of your land.
We practice mindful organic gardening, always working with an eye toward what is sustainable and will ensure a happy future of improved soil quality, plant vitality, and beauty for your garden.



Head Gardener Courtney Downing has a family history of stewardship for the Willamette Valley. Her great-grandparents farmed what is now Mt. Pisgah Arboretum and her grandfather helped build many of the park centers around Oregon.
Courtney spent a lot of summers tubing down the Willamette River and her aesthetic sense has deep roots in the northwest, but she draws inspiration from other landscapes as well. When she was nine her family moved to London, and Courtney soaked up the feel of the great old parks, Kew Gardens, and centuries of British architecture. At 15 Courtney moved to Honolulu. The proliferation of tropical flora seduced her and she got her first gardening job there, "Working," she will tell you, "in Paradise!"
She began her education studying Natural Sciences at Lewis and Clark College, which led her to the Landscape program at Portland Community College . Courtney then designed her own major, Sustainable Garden Design, at the University of California at Davis. She continues to take classes and is a member of the Association of Northwest Landscape Designers.

Contact us to discuss your next project: 503.757.8836 or info@greenartisans.com
Landscape Contractors Board License #9172. Bonded and Insured.